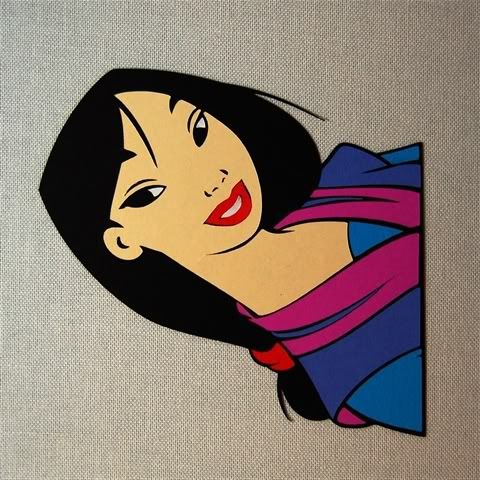 Disney characters and other complex layered cuts are easier to do when you use Design Studio. You can set up the entire mat with pieces of the appropriate color paper for each layer cut. This saves time in the cutting and puts everything at your fingertips for assembly.
This was my first attempt at making a Disney character - Mulan, from the Happily Ever After cartridge. I first set up the base on the left side of the mat using a size of 5 inches. Leaving the size at 5 inches, I then used the various function keys and shift key to get all the layers that needed to be cut. It is important to keep the size slider in the same position as the cartridge is programmed to make the layers proportional in size to the base layer.
Here you can see the feature keys that are used to make the layers.
The slider should remain at 5 inches for all the pieces that need to be cut - this shows the key selected for the magenta part of her costume (bottom row, fifth from right).
Above is a close up view of the placement of all of the pieces to be layered for the Mulan head and below you can see my mat set up to cut these pieces - by using the grid you can approximate the size of each element and stick a piece of the appropriate color paper in the area where that element will be cut.
This is a great time saver and you can leave each set of pieces on the mat until you are ready to add them to the base so you are less likely to lose some of these small bits!